Who doesn't love awesome kitchen gadgets? They save so much time and make meal prep and cook time so much faster. Here's a list of 10 Amazing Kitchen Gadgets to help you in the kitchen. Whether you are cooking for 1 or 20 these are guaranteed to help.
1. Oxo Strawberry Huller @ Bed Bath and Beyond $7.99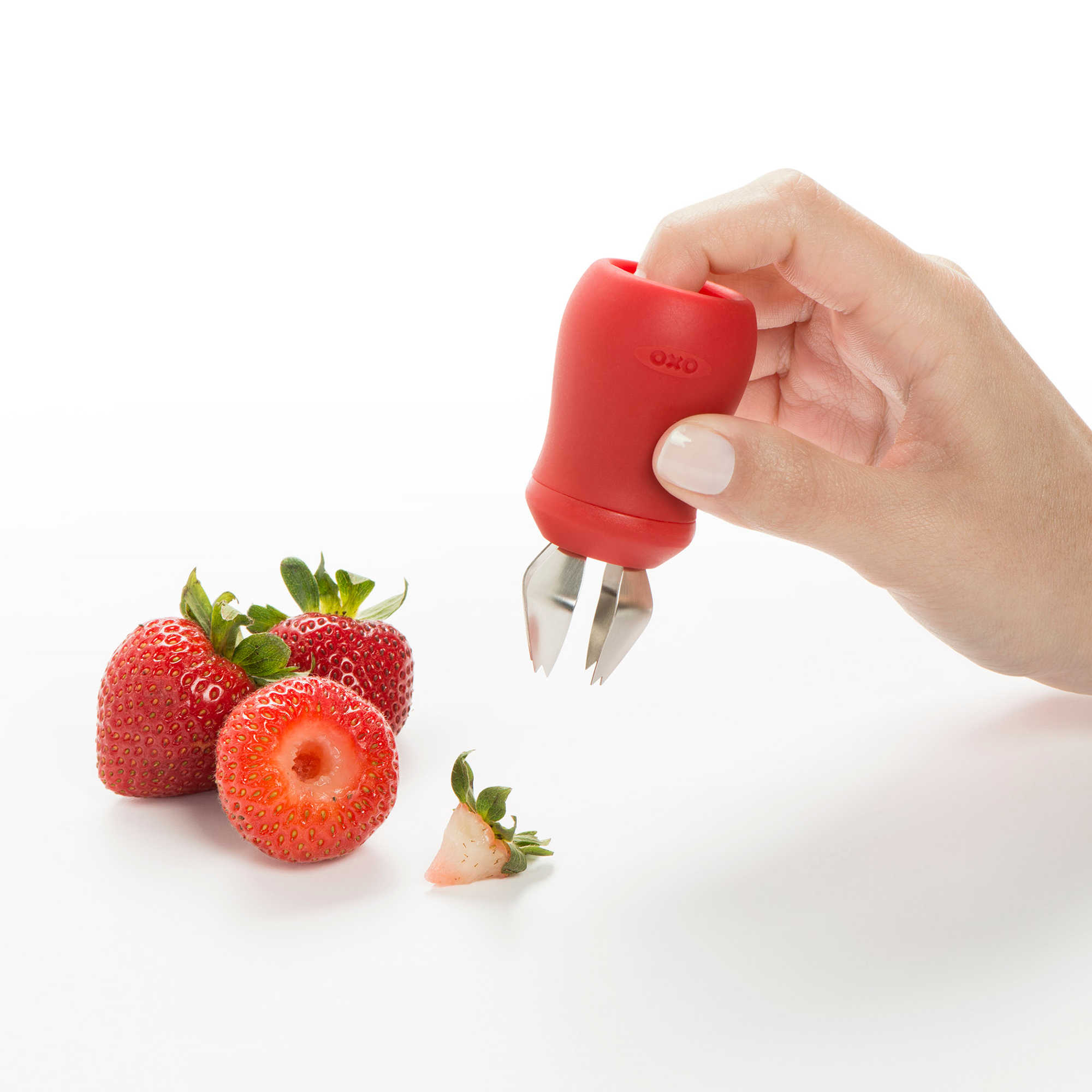 My 3 year old loves strawberries and
she won't eat them unless I take the green leafy top off.
I am amazed at how easy this tool makes it.
Plus I can load them up with chocolate or whipped cream for a delicious treat.
This tool is super easy to use and also comes apart for quick and easy cleaning.
2.Mastrad 5 bladed herb scissors @ Bed Bath & Beyond for $9.99
These scissors make cutting herbs simple and fast. The 5 blades help you cut herbs quickly and efficiently.
Here's a great recipe for using your herbs:
Fresh Freeze Herbs in olive oil 
3.Egg Yolk Separator  @ Williams Sonoma for $9.95
I love this amazing gadget. Just hang this on the side of the bowl and crack the egg into it, the egg whites will slide right through leaving the yolk intact.
Don't worry about leftover yolks here are 12 ways to use leftover egg yolks
For leftover egg whites 10 ways to use leftover egg whites
4.Prepworks Wedge and Pop Apple Wedger @ Bed Bath and Beyond for $9.99
I don't know how I lived without this before.I love to make several apple desserts and let me say this definitely is a time saver. Once I have the apples peeled this makes short work to cut the apples into wedges all while removing the core.
This awesome gadget also cuts pears as well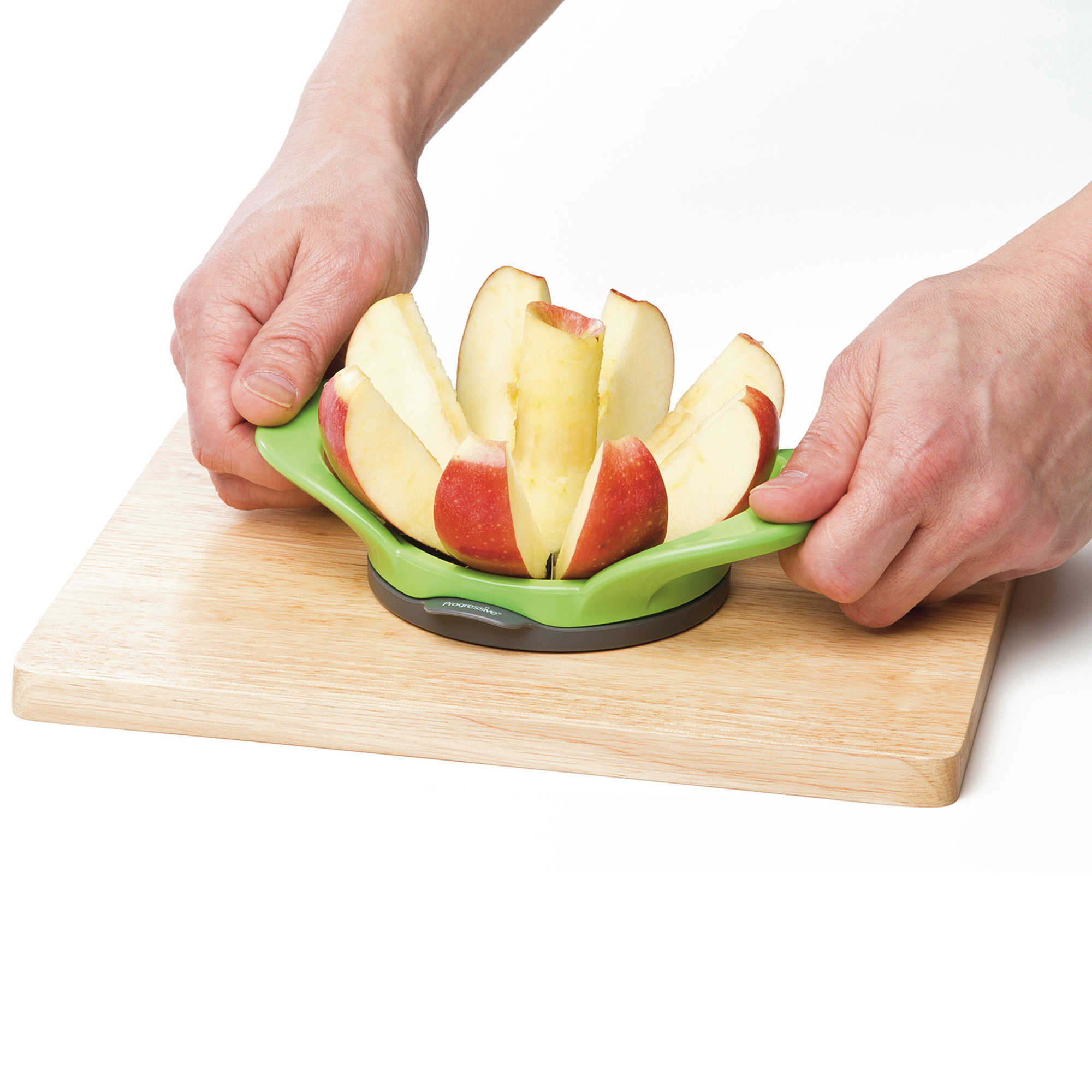 5.Sagaform 2 in 1 Pizza Scissors @ JCPenney for$19.99
This great gadget makes cutting pizza super simple. Just slice and serve. I need this in my life. My children eat so much pizza they should be related to the Teenage Mutant Ninja Turtles.
Great recipe for homemade pizza: Best Homemade Margherita Pizza from the A Beautiful Plate Blog
6.Oxo Pineapple Slicer @ Bed Bath and Beyond for $9.99
I don't know about you but I love pineapple. It's absolutely delicious but a pain to cut up. This nifty gadget makes slicing a pineapple a breeze. It even cuts pineapples in a variety of sizes. Here's a video to show the process:
After you remove the inside use the rest of the pineapple to make an amazing pineapple drink.
Here's a great recipe for a Pineapple Strawberry Smoothie from The First Year Blog
7.Elite Cuisinart 7 Egg Cooker on Amazon for $17.06
This egg cooker allows you to cook up to 7 eggs at a time and faster than boiling on the stove-top. You can decide firmness soft, medium or hard. This gadget also allows you to poach two eggs and has an automatic shut off. No more overcooking or under-cooking your eggs anymore.
8.Eco-friendly Bamboo Cutting Board with 4 drawers on Amazon for $19.99
This is an amazing chopping board. It has 4 drawers underneath to make meal prep a breeze. Chop and then slide your veggies, fruits, herbs into these 3 drawers. Once you are done use the drawers to easily transfer your ingredients to a bowl, pot or a container.
9.Adjustable Rolling Pin @ Bed Bath & Beyond for $19.99
Roll your dough to the exact thickness needed for your recipes. It takes the guesswork out of rolling dough. Great for pastries pies, cookies, etc. Comes with 4 different disks 1'16", 1/6″, 1/4″, 3/8″
This is amazing. I love how uniformly it rolls out the dough. This is great for when I make my pies and holiday sugar cookies!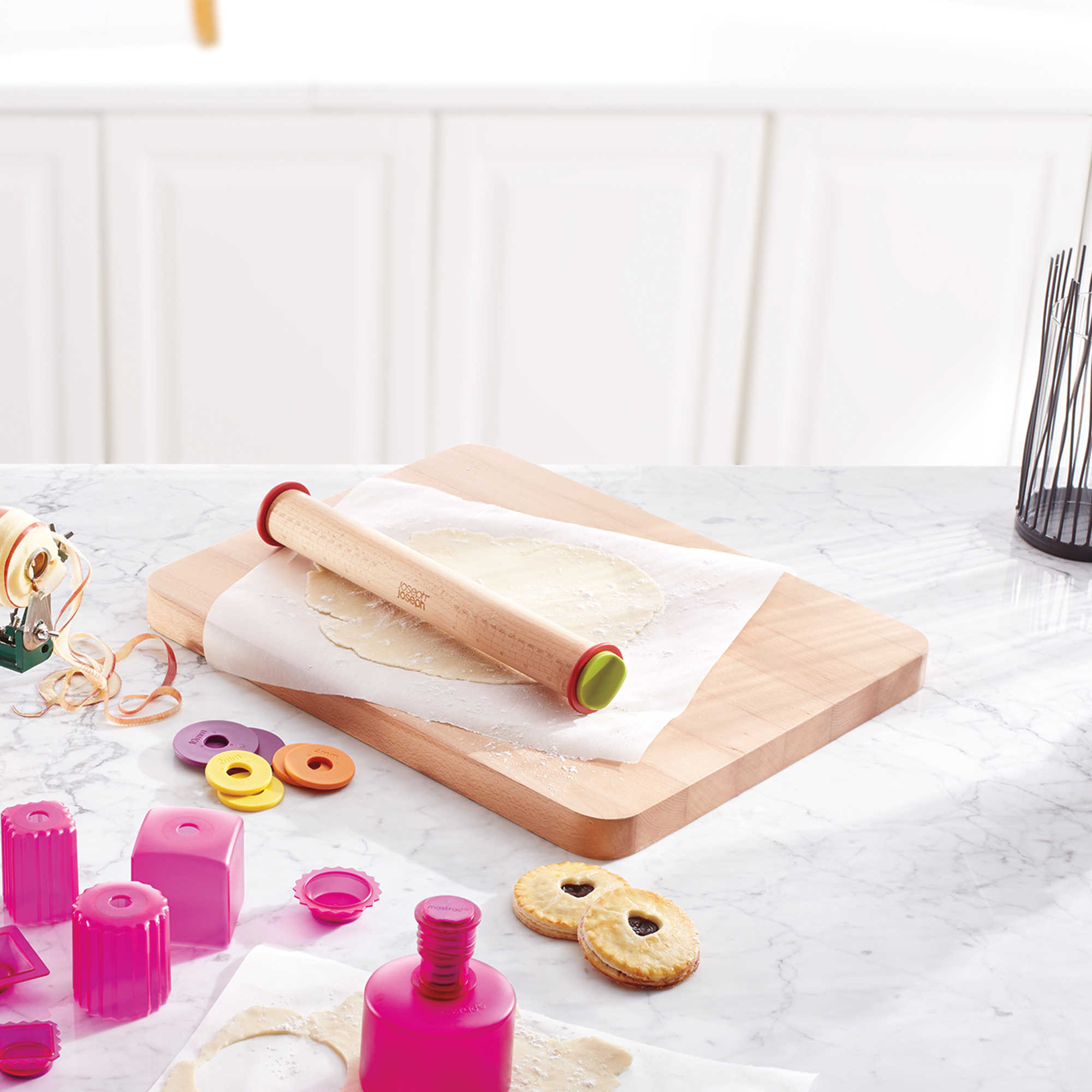 This is hands-down one of my most favorite cookie recipes. Every time I make these they disappear within a few hours. Try it and let me know how you like it!
10.Hands Free Bag Holder on Amazon for $6.83
OMG I love this. It's so annoying having to hold a bag open or ask someone to hold it open and you can't set it down or the contents will spill out. This makes life so much easier!
What do you think of the great kitchen gadgets and do you love gadgets as much as I do?
Check out my Pinterest board for more amazing food recipes: Food and Drink Recipes to drool over